The People Matters Tech HR event, dubbed Asia's largest HR and WorkTech conference, was a massive hit this year!
This two-day affair, held on August 3rd and 4th at The Leela Ambience in Gurgaon, saw Zappyhire as a proud Gold Partner for the second consecutive year. The two days were filled with fresh ideas, innovation, and inspiring discussions and there's no doubt our team had an unforgettable experience.
For those who couldn't make it to the event, fret not- we've got your back!
Here's a glimpse into one of the most highly anticipated HR tech events of the year.
People Matters TechHR: A look at Asia's largest HR & WorkTech conference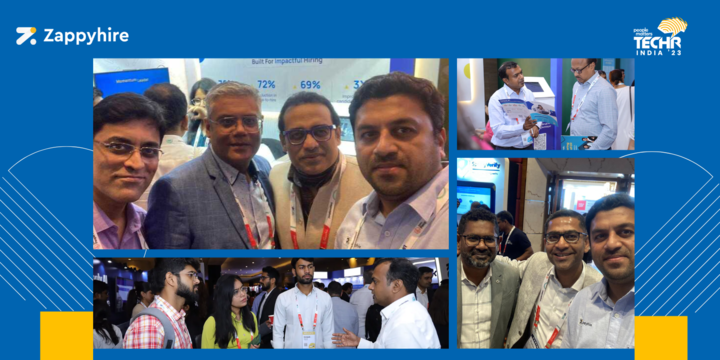 Over the last nine years, People Matters TechHR India has transformed into an important movement in the HR tech landscape, providing a platform for businesses, thought leaders, HR professionals, and tech wizards to connect & collectively map the course of the future of work as we know it.
With this year's theme being "The Art of The Possible: Design for the Unconventional", the event saw representatives from top brands such as Google, PepsiCo, Cipla, Titan Company, TCS, Vantage Circle, among others, who shared their thoughts on the future of HR & HR tech.
Zappyhire made waves once again this year, as a Gold Partner, marking our fifth year of association with People Matters TechHR. Our journey from a startup program entrant in 2019 to a Gold Partner in 2022 & 2023, showcases our exponential growth.
Let's take a glimpse at what this year had in store for us, shall we?
Zappyhire's experience at TechHR 2023
With an impressive turnout of over 2450+ attendees, 150+ speakers, 80 + sessions, and 110+ HR and WorkTech solution providers, the event undeniably achieved monumental success.
Featuring distinguished personalities such as Dr. Shashi Tharoor, Papon, and Ankur Warikoo, alongside industry experts like Dr. Tomas Chamorro Premuzic (Chief Innovation Officer, Manpower Group), CK Venkataraman (MD, Titan Company), and Divya Kumar (Group Digital CFO, IKEA Retail, INGKA Group), the event exceeded all expectations.
Across the two days, attendees were treated to an array of enriching masterclasses, engaging Fireside Chats, and thought-provoking Think Tank Panel discussions.
Day 1's highlight was our Co-founder Jyothis KS moderating a Think Tank Panel discussion featuring Anupama Kaul, Payal Nambiar & Ganesan P. They delved into the future of talent assessment, leaving the audience with valuable insights:
Emphasizing the need for action: While we talk about AI, the actual adoption is relatively low.

Striking the AI-human balance: Harmony between AI & humans is essential, creating an improved experience that's ideal for all stakeholders involved.

Discerning AI Application: It's crucial to identify where AI can add value and where a human touch is irreplaceable.

Refining AI through feedback: The consensus was that collective insights shape the evolution of AI. Gathering feedback from various stakeholders helps fine-tune outcomes.

Addressing human bias in AI: Recognizing and eliminating biases, to make AI a fairer tool was unanimously acknowledged.
Zappyhire's experience at TechHR 2023 unfolded with impactful & unforgettable experiences- inspiring speeches, captivating performances by artists like Papon, and a bustling booth where our disruptive tech resonated with attendees, especially our innovative Robotic Video Interview feature, which created quite a buzz at the event.
Conversations & discussions revolved around enhancing company interactions with job seekers, utilizing AI and generative AI, and automating pre-screening.
Amidst these enlightening sessions, attendees had the chance to network over dinner and drinks, forging potential partnerships and connections that promise growth and innovation.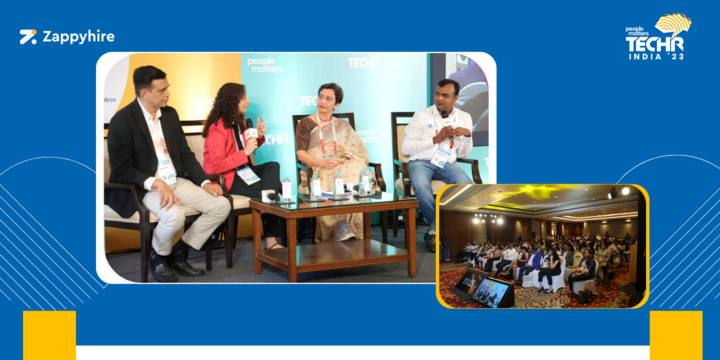 Key Takeaways from TechHR'23:
Here are the insights we gathered – the valuable lessons we took home from TechHR'23. If you couldn't join us there and are curious about what you missed, these are 3 key insights from the event –
Skepticism around AI: Generative AI garnered significant attention, sparking curiosity about how it fits into HR practices. There was interest in its role, but also some skepticism.

Gap in AI adoption: It was clear that AI is underutilized within the HR community. There's a need to educate and empower people to use it better.

Enhancing candidate engagement: The event focused on improving candidate engagement, a top reason candidates leave applications mid-way. Attendees sought solutions to enhance this, exploring chatbots and robotic video interviews.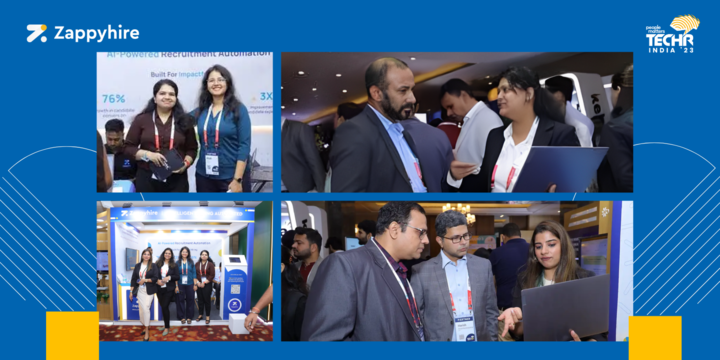 As all good things come to an end, our remarkable journey at TechHR'23 draws to a close. These two days were packed with networking, learning, and enriching conversations with fellow minds united by a common goal.
Cheers to team Zappyhire and People Matters, for a fruitful partnership and an unforgettable experience that exceeded all expectations!
For deeper insights into how Zappyhire can enhance your talent team's efficiency with AI-driven hiring, don't hesitate to contact us at growth@zappyhire.com.
Looking forward, our team is eager to embrace more of such experiences in the times to come.