Asia's largest HR and WorkTech conference, People Matters TechHR, that attracts over 2000 delegates annually, is just around the corner and the excitement is palpable.
Zappyhire is thrilled to return as a Gold Partner for the second consecutive year, which also marks our fifth year of association with People Matters.
This year, the event is set to take place at The Leela Ambience in Gurgaon on August 3rd and 4th with industry experts & representatives of top brands from across the globe, in attendance. We, at Zappyhire, are eagerly looking forward to showcasing our disruptive tech and are all set to take the event by storm! Will you be there?

Here are 6 things you should know about TechHR 2023 & Zappyhire's 5 year journey with People Matters TechHR.
1. Five years of thriving partnership with People Matters TechHR
Zappyhire has been an active participant in People Matters TechHR conferences over the years, with 2023 being our fifth year of partnership.
From a Startup Program entrant in 2019 to a Gold Partner in 2023, our partnership has come a long way. The year 2020 & 2021 saw us as a Startup Partner & a Recruitment Automation Partner, respectively.
Our super – startup reached stellar heights as a Gold Partner in 2022, laying the foundation for our upcoming and much anticipated role at this year's event. We now proudly continue our journey as a Gold Partner at TechHR'23, showcasing our dedication to HR-tech innovation and solutions.
2. The art of the possible: Design for the unconventional
Under the theme, "The art of the possible: Design for the unconventional", People Matters TechHR 2023 encourages participants to break away from traditional thinking and embrace innovative approaches to business, technology, and leadership.
This year's theme focuses on straying away from the norm, sparking a much needed conversation on the importance of constant innovation & disruption while also providing a much needed platform for innovators & industry experts to come together and take the conversation further.
3. Noteworthy speaker sessions and agenda
The event boasts of a diverse agenda spread across five venues at The Leela Ambience, Gurgaon, namely- Studio 1, Studio 2, Studio 3, Studio 4 & Unconference.
This is inclusive of keynote speeches by eminent personalities like – Dr. Shashi Tharoor & Ankur Warikoo, and industry experts like Dr. Tomas Chamorro-Premuzic (ManpowerGroup), Partha Neog (Vantage Circle), CK Venkataraman (Titan Company), Divya Kumar [IKEA Retail (INGKA Group)], among others.
With the event officially kicking off on the morning of 3rd August, it will feature masterclasses, panel discussions, and fireside chats, along with ample networking opportunities.
On Day 1, our Co-founder and Head of Growth, Jyothis KS will moderate the Think Tank panel in Studio 3, Maple, focusing on "The Future of Talent Assessment".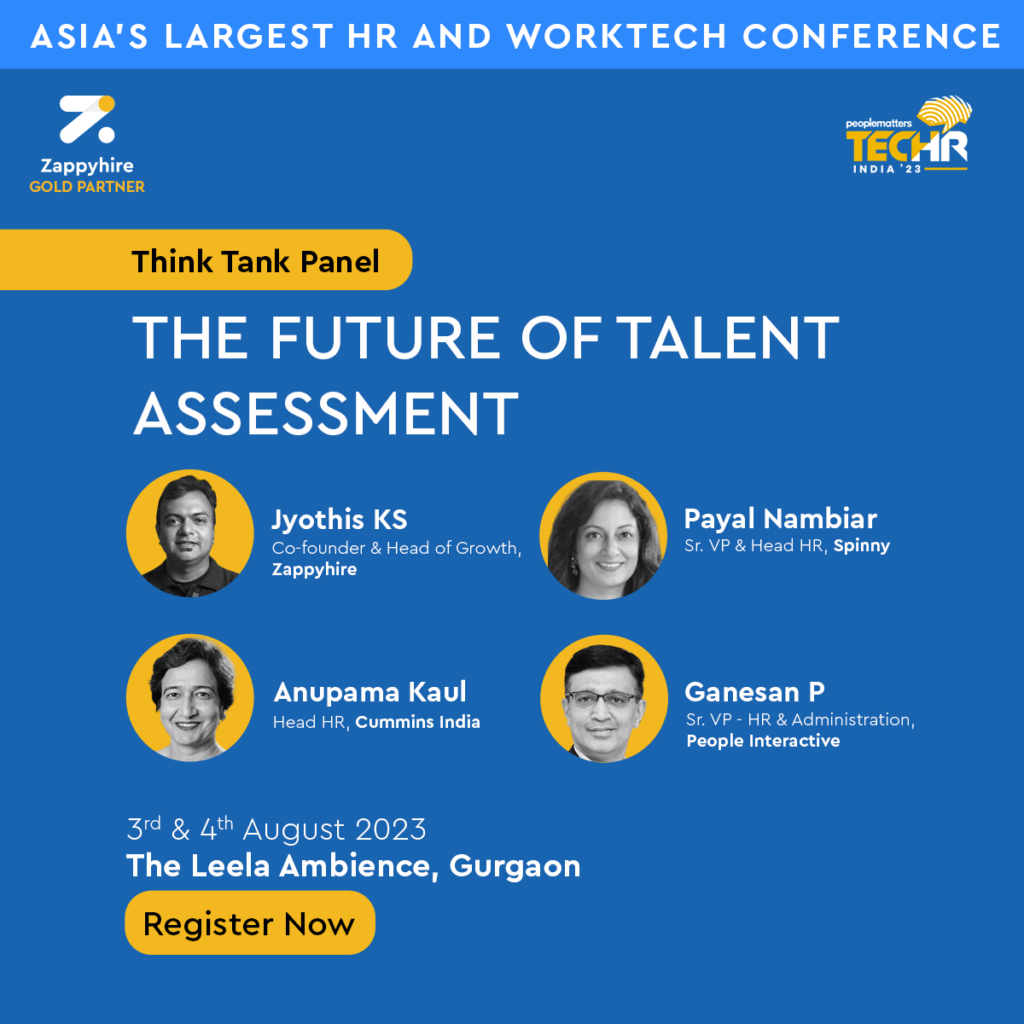 He will be accompanied by fellow industry experts Anupama Kaul (Head HR Cummins India), Payal Nambiar (Sr. VP & Head HR, Spinny) & Ganesan .P (Sr. VP – HR & Administration, People Interactive).
They will set out to explore the current state of AI adoption in talent assessments, the definition of & subjectivity around "great performance" and the role of generative AI in this field. 
Make sure to catch them live on the 3rd of August at 3:10 pm.
What's more! Day 1 will also see a live performance of musical maestro Papon, followed by a perfect evening of dinner, drinks & a whole lot of networking!
4. Top Brands In Attendance
Some of the world's top brands, including Google, PepsiCo, Titan Company & Reliance Industries, will be present at the event, creating a thriving environment for collaboration and networking.
The event will also see representatives from companies such as Cipla, IndiGo, Sony Pictures & Networks India, Tata Communications, Swiggy, IKEA Retail, Flipkart, TCS & Vantage Circle participating in numerous events in various capacities.
5. People Matters TechHR 2022 summed up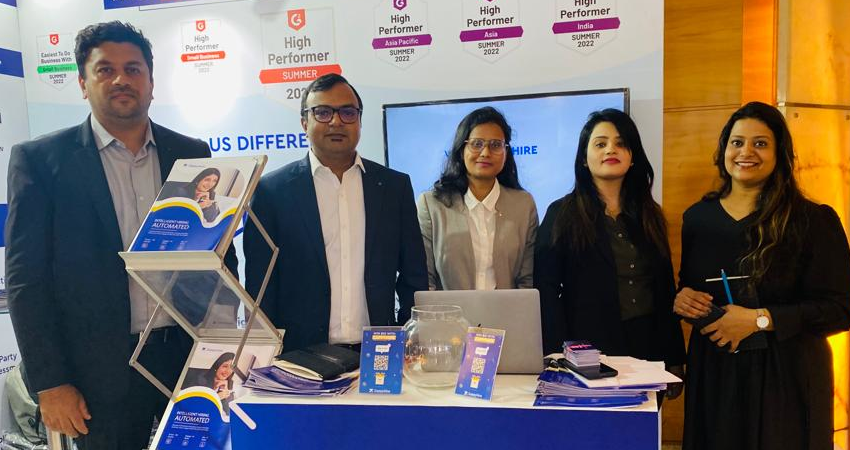 Last year's event, held in August 2022 in Gurgaon, saw over 3000 delegates in attendance.
We got a chance to meet thought leaders, startup founders, and scores of other people with a common goal – to improve lives through HR tech as we are.
Our booth was visited by 500+ people during the two days of the exhibition and we were able to showcase how Zappyhire's innovative features could help simplify their recruitment processes.
6. Zappyhire's team at People Matters TechHR 2023
With excitement building, our co-founders Deepu Xavier & Jyothis KS and members of our dedicated product experts look forward to showcasing our disruptive technology at the event.
Get the opportunity to experience our innovative Robotic Video Interview feature, which is the future of pre-assessments..
Here's what our Co-founders have to say about our participation at this year's TechHR conference-
Being part of TechHR for five years has been an incredible journey, and we are thrilled to return as a Gold Partner for the second year in a row.

Jyothis KS (Co-founder & Growth Head)
We believe in the power of technology to revolutionize HR operations, and TechHR provides the perfect platform to showcase Zappyhire's disruptive solutions.

Deepu Xavier (Co-founder & Tech Head)
Join us at TechHR 2023 and  meet us at Booth G6 on August 3 & 4.
We look forward to seeing you there!