In a post-COVID era, "remote" has become an omnipresent term in our professional lives.
As we navigate the intricacies of working and interviewing remotely, a whole new dimension of challenges and conveniences emerges.
In the context of recruitment, which was once limited to face-to-face interactions, interviews have transformed in a way that is reflective of the global changes we've witnessed.
Gone are the days when individuals had to travel long distances to attend interviews. Today, the interview room has no geographical boundaries, transcending time zones and geographical constraints. The world has moved, and it has moved forward.
Video interviews are here to save the day and are surely here to stay – for good reason too! The advantages they bring are aplenty and significant.
Over the course of this blog, we shall delve deeper into the realm of video interviewing software and take a look at the top 10 video interviewing software of 2023.
What is a video interview tool?
For the unversed, a video interviewing software is a digital tool that facilitates the process of conducting interviews remotely through video communication. It allows employers to connect with job candidates virtually.
With a video interview software, recruiters and hiring managers can schedule, conduct live or recorded interviews, as well as evaluate responses online.
What are the advantages of using a video interview tool?
The advantages of embracing robotic video interviews are undeniable. They level the playing field by enabling the discovery of quality candidates from diverse backgrounds, all with minimal effort.
A recent survey revealed that close to 74% of recruiters say that video interviews have made their life easier.
They've revolutionized the hiring landscape, ensuring several advantages to recruiters and candidates:

Time effectiveness: They streamline the process, saving time for both recruiters and candidates.

Cost effectiveness: The efficiency of AI-powered video interviews reduces costs associated with traditional interviewing methods.

Guaranteed global access: Candidates from anywhere in the world can be evaluated, expanding the talent pool.

Enhanced candidate experience: AI- powered video interviews ensure a modern and engaging experience for candidates.

Ensured flexible schedule: Interviews can be conducted at candidates' convenience, accommodating different time zones.

Unbiased evaluation: AI removes human bias, promoting fairness in candidate assessment.

Enhanced candidate understanding: With AI's analysis, interviews transcend conversations, offering a glimpse into candidates' suitability and potential fit. Insights from expressions, tone, and responses empower recruiters to make informed decisions beyond resumes.
This transformative technology not only benefits recruiters by making their job more efficient but also empowers candidates to showcase their abilities on a level playing field.

No longer are the logistics of geographical proximity a limiting factor. Instead, the focus shifts to assessing skills, qualifications, and potential.
The automation aspect simplifies and streamlines the backend tasks, ensuring that recruiter personnel can spend their valuable time on more strategic activities.
For all the benefits of AI-powered video interviewing software mentioned above, it's not surprising that organizations are making the shift from conventional interviewing methods to AI driven video interviews at a rapid pace.
This shift not only saves time but also enhances efficiency and candidate experience, thereby redefining recruitment operations for greater effectiveness.

Here's a look at these disruptive video interviewing tools that are reshaping the hiring landscape.
Top 10 AI-Powered Video Interviewing Software of 2023
In view of the changing landscape of recruitment, a recent survey revealed that 82% of employers leverage virtual interviews, with 93% committed to its continued use.

To aid your exploration, here's a rundown of the top 10 AI- powered video interviewing software of 2023.
1. Zappyhire
Claiming the top spot is Zappyhire's innovative AI-powered robotic video interview which precisely assesses candidates' answers for skills, domain knowledge & answer relevancy using advanced speech analysis technology.
With the ability to reduce time-to-hire by more than 70% and increase candidate quality, Zappyhire is quickly becoming the most sought after video interview software for recruiters. Additionally, Zappyhire's dedicated customer support stands out as one of the reasons users love it and its cutting edge video interviewing software, as a seamless and satisfying experience for users is guaranteed.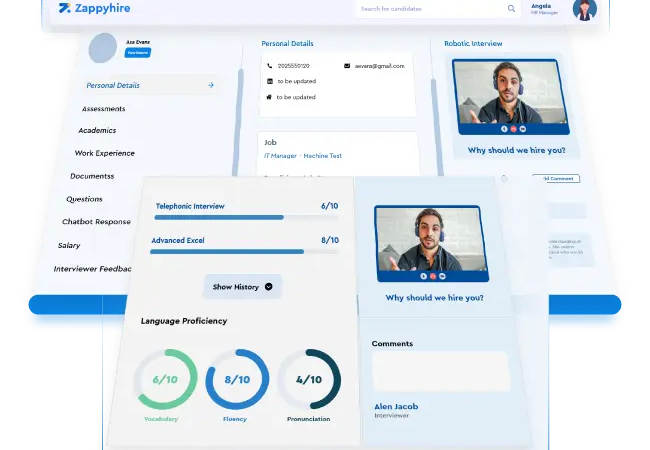 Notable features:
Real-time analysis of body language, speech patterns, behavior & answer relevancy based on advanced speech technology
Machine learning-powered insights
Customized on-demand interviews
Mobile-first experience & collaboration
Automated interview scoring
Seamless integration & plug-in availability
| | |
| --- | --- |
| Availability of a free trial | ✅ |
| Most suitable for | Mid to large-sized companies |
| G2 Rating | 4.5/5 |
2. HireVue
HireVue's on-demand and live video interview platform, complete with real-time evaluation tools and automated candidate routing, redefines convenience and efficiency.
With the provision to seamlessly integrate with an existing ATS, this tool has the ability to make hiring faster and more intuitive.
With HireVue's video interviewing software, recruiters and candidates can interview effortlessly anytime, anywhere.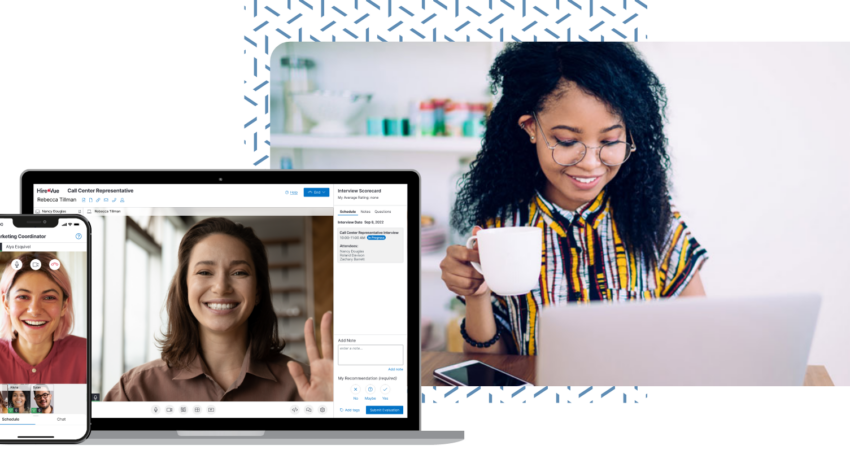 Notable features:
Live and on – demand video interviewing software
Standardized interviews & bias reduction
Seamless ATS integration
Access to Interview guides
| | |
| --- | --- |
| Availability of a free trial | ❌ |
| Most suitable for | Enterprises |
| G2 Rating | 4.1/5 |
3. Mercer Mettl
Mercer Mettl's robust video interview platform focuses on eliminating hiring inefficiencies, enabling strategic decision- making, and transforming the way one engages with candidates.

From structured interviews aligned with competencies to interactive coding environments to discover candidate skills in real-time, this platform is designed to significantly improve candidate experience.

With features like multi-panel interview setups, secure and cheat-proof evaluations and insightful reports, this platform ensures a seamless experience from start to finish.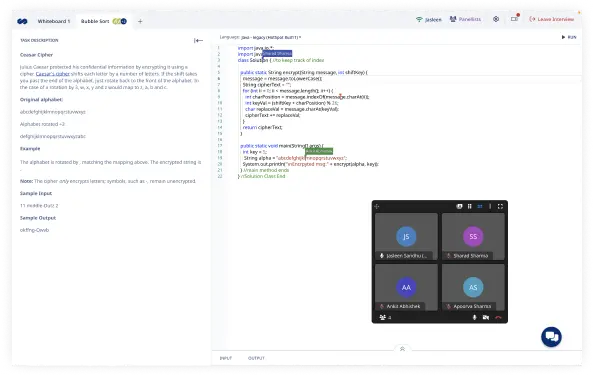 Notable features:
Interactive whiteboard and diagramming tool
Live coding environment
Multi-panel interviews
| | |
| --- | --- |
| Availability of a free trial | ✅ |
| Most suitable for | Small businesses |
| G2 Rating | 4.4/5 |
4. Talview
A cutting-edge video interviewing platform designed to fast track your recruitment process and enhance your hiring efficiency. With Talview, one is equipped with AI-enabled capabilities that not only expedite your recruitment process but also provide in-depth insights into candidate behavior.
Gain access to quick and convenient recruitment by leveraging Talview's on-demand video interviewing tool that assesses the candidate's soft skills, body language, and culture fit.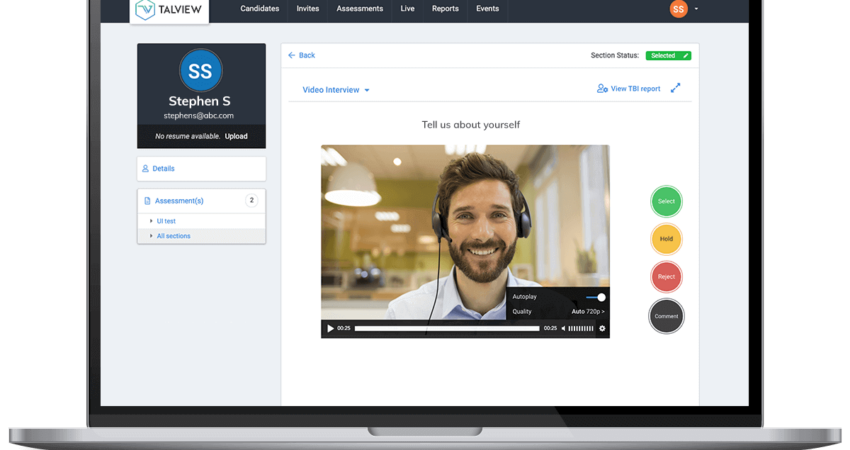 Notable features:
Talview Behavioral Insights (TBI)
Evaluate soft skills, body language, and cultural fit
Seamless automated workflows
Seamless integrations with other recruiting management systems
| | |
| --- | --- |
| Availability of a free trial | ❌ |
| Most suitable for | Enterprises |
| G2 Rating | 4.5/5 |
5. Breezy HR
This dynamic platform empowers recruiters to lead more productive interviews, ensuring that the hiring team engages candidates effortlessly while streamlining the entire process.
Breezy HR with its features such as streamlined team scheduling, fosters a collaborative hiring environment, thereby enhancing the recruitment process.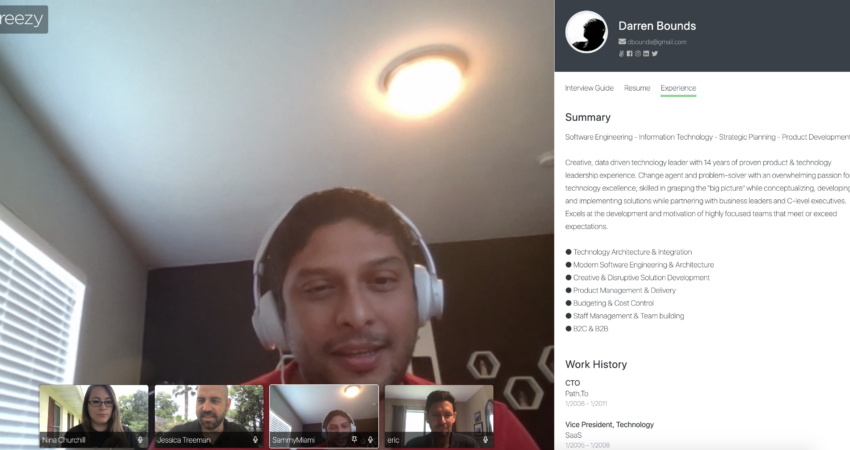 Notable features:
Effortless team scheduling
Candidate self- scheduling
Easy integrations with popular platforms
Access to custom interview guides
| | |
| --- | --- |
| Availability of a free trial | ✅ |
| Most suitable for | SMBs & mid-size companies |
| G2 Rating | 4.4/5 |
6. CodeSignal
This platform ensures top-notch candidate experience within a realistic coding environment, while accurately evaluating a candidate's skills & culture fit.
With the ability to simulate real dev work during the interview while creating a positive candidate experience, CodeSignal's video interviewing platform equips recruiters with deeper candidate insights, enabling them to make the right hires, faster.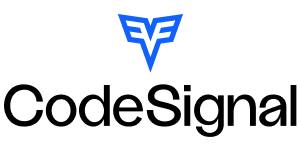 Notable features:
Integrated Development Environment (IDE) integration
Realistic dev work simulations
Access to premium question library
Assured compliance, security and privacy
| | |
| --- | --- |
| Availability of a free trial | ❌ |
| Most suitable for | SMBs |
| G2 Rating | 4.5/5 |
7. HackerEarth
FaceCode, HackerEarth's coding video interview software, offers a range of features designed to enhance the interviewing experience.

It allows for conducting intelligent coding interviews, complete with state-of-the-art features such as the collaborative code editor, built-in question library & more, taking coding assessments to another level.
With the ability to combine candidate feedback with AI-based insights, FaceCode empowers recruiters with accurate interview reports.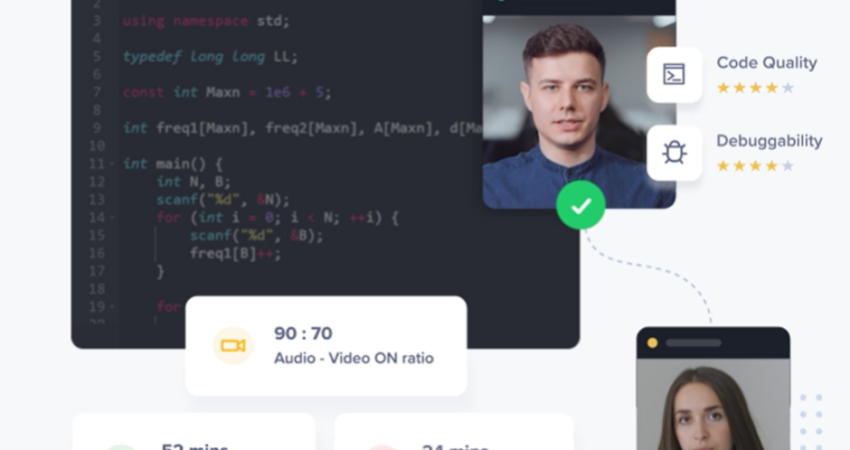 Notable features:
Collaborative code editor with AI automation
Effortless interview playback
Simplified 3 step interview process
Built-in question library

| | |
| --- | --- |
| Availability of a free trial | ✅ |
| Most suitable for | Small & mid-sized companies |
| G2 Rating | 4.4/ 5 |
8. Modern Hire – A HireVue Company
Modern Hire's virtual interviewing technology and AI-powered automated interview platform ensures seamless recruitment operations for enterprises.
Packed with innovative features such as automated interview scoring, while facilitating a streamlined and structured workflow, Modern Hire helps recruiters choose the right candidates.
Notable features:
Automated interview creator
Automated interview scheduling
Automated interview scorer
| | |
| --- | --- |
| Availability of a free trial | ❌ |
| Most suitable for | Enterprises |
| G2 Rating | 4.2 / 5 |
9. Avature
Avature is a solution designed to provide recruitment personnel a superior interview experience on fully branded, accessible and mobile-friendly portals.
Avature offers a flexible live interview experience that is not just cost-effective but also helps decrease scheduling efforts by recruiters.
Additionally, the on-demand (recorded) interviews are a boon to recruiters, allowing them to review candidates at their convenience.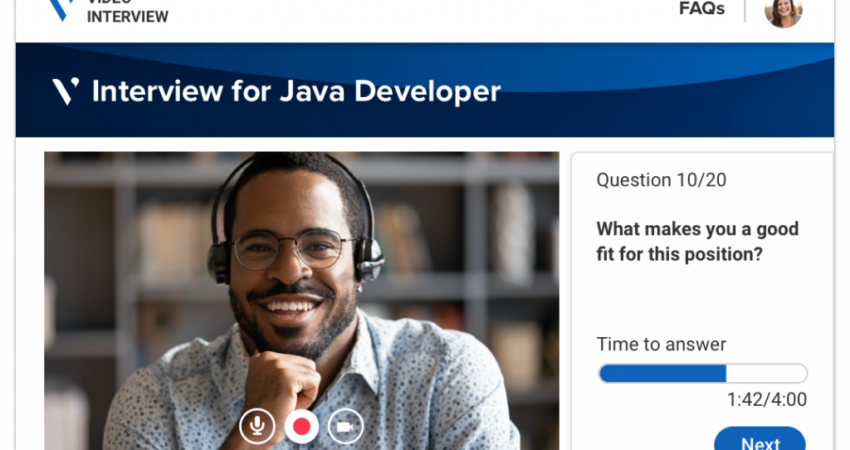 Notable features:
Comprehensive dashboards & reporting
On- demand (recorded) interviews
Compare candidate profiles
| | |
| --- | --- |
| Availability of a free trial | ❌ |
| Most suitable for | Enterprises |
| G2 Rating | 4.4 /5 |
10. Jobvite
Jobvite empowers recruiters to make interviewing a strategic part of the talent acquisition lifecycle, ensuring streamlined efficiency, more meaningful interactions with candidates and less time spent on administrative tasks.
Jobvites ability to connect with candidates faster with the mobile hiring team app and capture feedback with ease, fosters a collaborative culture, providing a seamless experience to recruiters.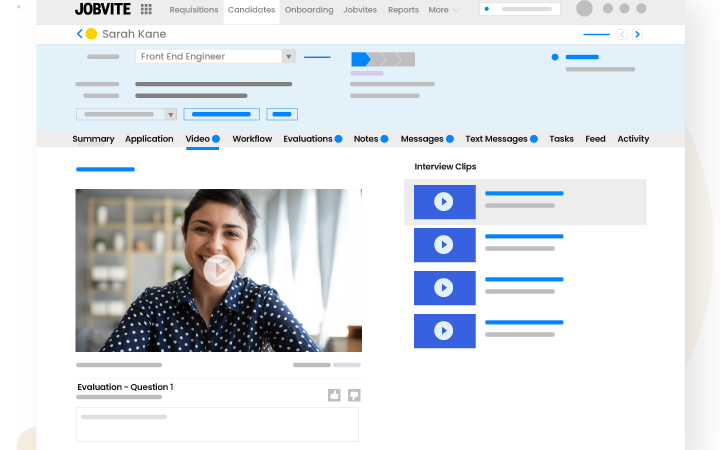 Notable features:
Smart self-scheduling
Efficient mobile hiring team app
Interview kit
| | |
| --- | --- |
| Availability of a free trial | ❌ |
| Most suitable for | Mid-sized companies |
| G2 Rating | 4/5 |
As we've explored the top 10 AI-powered video interviewing software options of 2023, it's evident that this method of interviewing is not just a trend but an evolutionary journey.
AI-powered video interviews have initiated a significant shift in how organizations attract, assess, and select top quality talent.
AI's ability to analyze facial expressions, speech patterns, and responses goes beyond mere words, empowering recruiters with much needed deeper insights about candidates.
Moreover, by reducing unconscious bias, fairness and diversity in candidate selection is promoted.
Having explored the best video interviewing software of 2023, let's delve into the criteria used to curate this list.
These parameters guided our evaluation process, enabling us to present the most comprehensive and insightful analysis.
From functionality to scalability and integration, the above-mentioned software were selected based on a certain set of parameters, explored in detail below.
Parameters for evaluating the top 10 video interview software
Selecting the right AI-powered video interviewing software involves a careful consideration of various parameters- an enormous task in itself. But we've got your back!
These parameters form the foundation of our evaluation process, ensuring that the top 10 software on our list stand out in their offerings and capabilities.
1. Functionality
The effectiveness of software is determined by its range of features. From automated interview scheduling to real-time analytics, each function should contribute to a seamless recruitment operation.
2. Scalability
The software's ability to adapt to the requirements of organizations of different sizes is crucial. Scalability guarantees that as a company grows, the software remains a viable solution, offering features that cater to expanding recruitment needs.
3. User Experience/User Friendliness
Intuitive software enhances the user experience for all stakeholders involved. An easy-to-navigate interface ensures that users can focus on their tasks without being challenged by a steep learning curve.
4. Customization
It's a given that one size does not fit all in the world of recruitment. The ability to tweak & customize the software to match an organization's specific needs ensures that it aligns with unique hiring requirements, processes and practices.
5. Integration
Today's HR ecosystem is reliant on numerous tools and platforms. A software's compatibility and integration capabilities with existing HR systems demonstrates its adaptability and contributes to a seamless & streamlined workflow.
6. Tech Support
Regardless of the tech, glitches are inevitable. Keeping this in mind, responsive and effective technical support becomes a crucial parameter, ensuring that challenges are addressed promptly, and minimizing disruption to recruitment processes.
In the same vein, keeping these integral parameters in mind, it is essential to take a look at why incorporating robotic video interviews is important. These solutions not only address recruiter pain- points but further improve existing recruitment operations.
Why use robotic video interview software?
AI-powered interviews help level the playing field by making it easy to locate qualified applicants from a variety of backgrounds.
The answer to enhance candidate experience, while also taking into consideration factors such as time and cost, lies in leveraging the power of AI-powered video interviews.
In the ever-changing & ever-evolving landscape of recruitment and HR processes, AI integration plays an integral role in the way organizations identify, assess, and onboard talent.
Exploring a new video interview software or contemplating a switch? Try Zappyhire for 7 days for free with no commitments.
Zappyhire's robotic video interviews offer deep insights into candidate skills, domain expertise, and response relevance. It has been tailored for medium to large companies to find the best talent out there with maximum efficiency and precision.
The future of hiring has arrived, and it's intelligent, efficient, and people- centric.
Why not request a demo and witness the potential for yourself?